Terje Vigen
Original sountrack newly composed by Simon Quinn to the drama «Terje Vigen» by Victor Sjöström that launched the golden age of Swedish silent film (1917).
Commissioned by Lichtspiele Olten.
The plot of this epic motion picture tells a story of crushed dreams, solitude and forgiveness unwinding between Norway, Denmark and England on the merciless waters of the North Sea.
→ Read more about the project . . .
Sunday
The Berlin based trio, headed by the Swiss-American double bass player Simon Quinn accompanied by the German singer Zola Mennenöh and the Greek guitarist Charis Karantzas, has an unusual instrumentation which implies subtle and harmonious melodic twines generated by the meticulous interpretation of the written parts opposed to the elegance of improvised musical bits.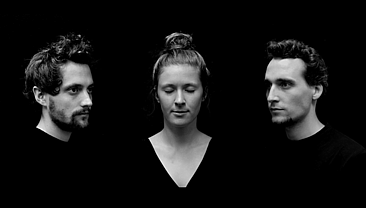 → Read more about the project . . .
Co-lead
Q3 a Musicians' Collective
The Fence Quartet / with Tino Tracanna, Gabriele Pezzoli, Simon Quinn, Brian Quinn
TreMeandy / with Manuel Pramotton, Simon Quinn, Giacomo Reggiani
Sideman
Drejs Quintet / with Andrej Ugoljew, Yemi Gonzales, Simon Quinn, Max Klaas, Hanno Stick
Kati Brien's Dreamband / with Kati Brien, Bastian Duncker, Viktor Wolf, Andrej Ugoljew, Simon Quinn, Tilo Weber
Oh Lonesome Me / with Anne Stabe, Carina Schwertner, Andreas Koslik, Simon Quinn, Martin Kruemmling
The Fifth Generation / with Dennis Junge, Sebastian Undisz, Simon Quinn, SebastianBlache